27.11.2019
Applications are now being accepted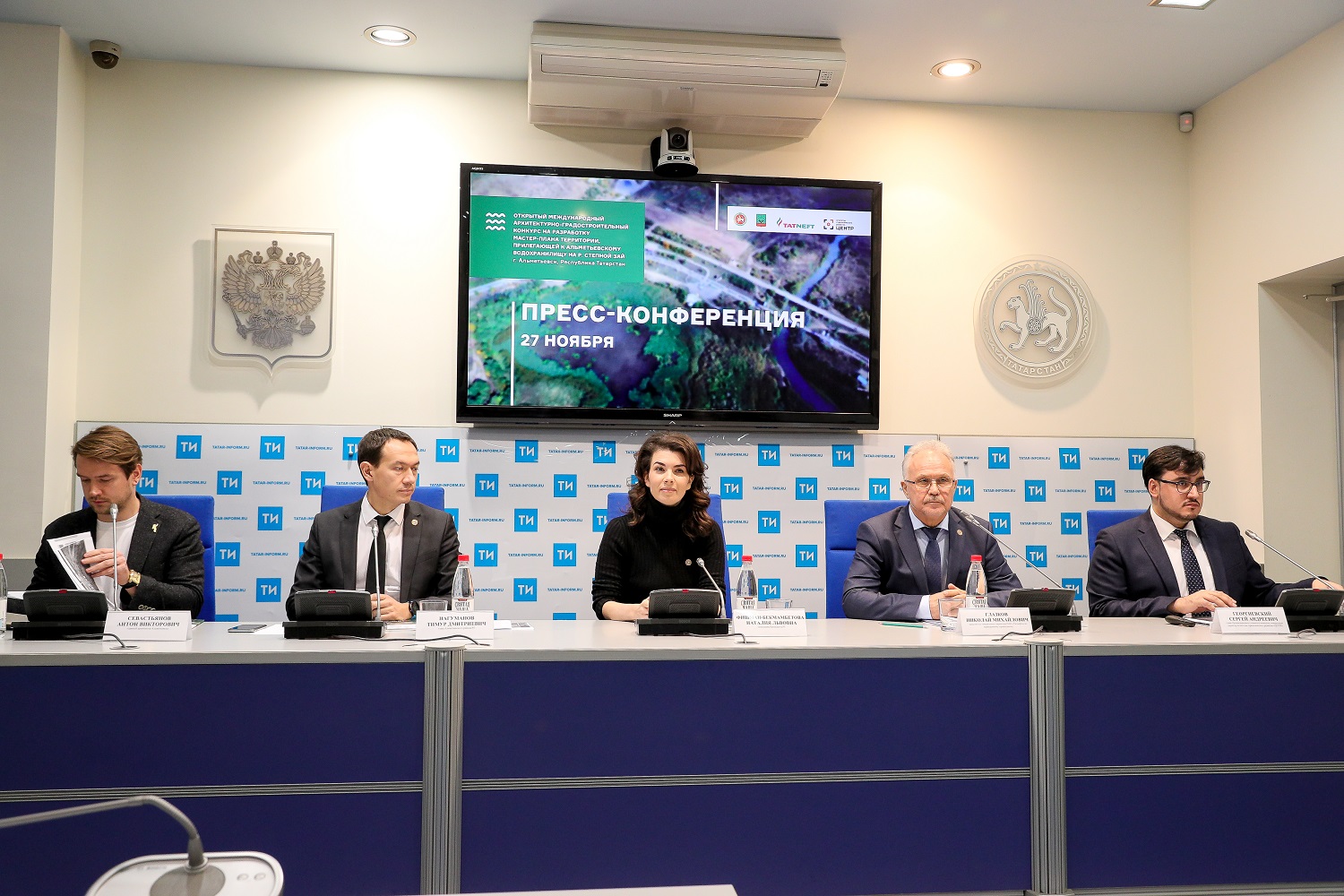 A press conference at the launch of the Open International Architectural and Urban Planning Competition for the development of a master plan for the territory adjacent to the Almetyevsk Reservoir on the Stepnoy Zay river took place on November 27, 2019 at the press center of the Tatar-inform news agency.
During the press conference, the Assistant to the President of the Republic of Tatarstan, Natalia Fishman-Bekmambetova, outlined the main vectors for the development of public spaces in the Republic of Tatarstan and the importance of changing them in the context of the republic, and also spoke about the work of the government in this direction.
In his speech the Head of the Almetyevsk Region of the Republic of Tatarstan Timur Nagumanov indicated the special role of the Almetyevsk region as a whole, and Almetyevsk in particular, in the structure of the Republic of Tatarstan. He talked about working with public spaces in the district and the city, and outlined a number of the most important projects for the city.
The Deputy General Director of PJSC TATNEFT for Capital Construction, Nikolay Glazkov, shared the experience of PJSC TATNEFT in Almetyevsk and the Almetyevsk agglomeration, and outlined which projects have been implemented recently. The company invests and supports initiatives aimed at changing the quality of the urban environment.
The Chief Architect of Almetyevsk, Anton Sevastyanov, pointed out what challenges the district faces in the Republic's quest to create a comfortable environment in the region. He described how the city has been transformed, and what architectural practices have already been introduced to Almetyevsk recently.
The head of the Organizing Committee of the competition, CEO of the Agency for Strategic Development CENTER, Sergei Georgievskii, spoke about the specifics of the competitive procedure, as well as about what was special about the chosen location, the difficulties and its current state.
The competition will take place from November 27, 2019 through April 23, 2020. The initiators of the competition are the Administration of the city of Almetyevsk and PJSC TATNEFT named after V.D. Shashin. The competition is supported by the Government of the Republic of Tatarstan. The operator of the Competition is the Agency for Strategic Development CENTER.
The live translation of the press-conference is available at the YouTube Channel of the Agency for Strategic Development CENTER.
You can register as a participant here.